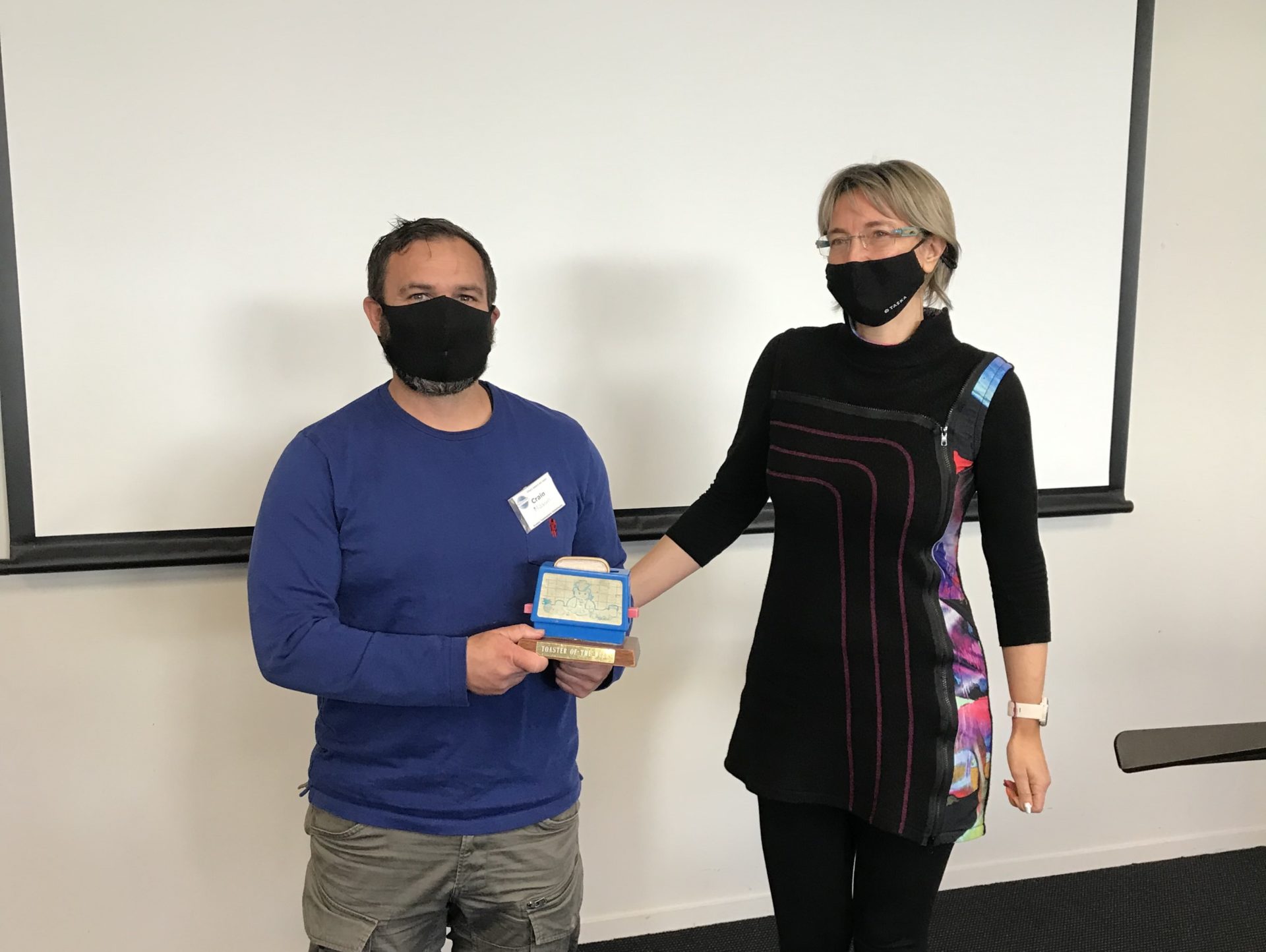 Member blog by Louise:
This week the blog spotlight is on our meeting's supporting players; on the people and roles that give the meeting structure and the speakers, feedback. And while they rarely get the glory during the hour and a half we meet, their roles allow the speakers to shine.
Every meeting starts with the Sgt at Arms calling the meeting to order, ideally at 7am on the dot. And this week, just like a highly proficient air steward, Gerald Hartley gave us a warm welcome and got us off to a flying start, bang on time. As well as running us through the usual housekeeping rules – I can never be reminded often enough to turn my phone to silent at the start – he reminded us about mask protocols and other Level 2 considerations before introducing our Toastmaster of the day, Sabine Parry.
Newly-minted Distinguished Toastmaster and Immediate Past President Sabine showed us how it's done, running an entertaining meeting – her 'Your Favourite Joke' theme was a real winner with lots of laughs enjoyed throughout, and even though she clearly wove a thread with her theme, she kept the spotlight firmly on the speakers; the measure of a great MC.
Grammarian Cam Parsonson gave us 'jocular' as the Word of the Day. One of Cam's many talents is that he likes to get everyone thinking, delving deep into the root meaning of a word when he's in this role, and this week was no exception. He raced through a wealth of ways the word jocular can be used, and at the same time managed to pepper in a few understandable examples for those of us who are a little slow to keep up.  I'm unsure how he quite got there, but at one point I remember him giving us a malapropism that stuck with me more than the word itself – 'Jesus heals the leopards', a jocular phrase for sure.
This week our three speakers were delivering projects from three different projects and Pathways:
Researching & Presenting – Persuasive Influence

Intro to Toastmasters Mentoring  – Dynamic leadership

Effective coaching –Evaluation & Feedback
And each of our Introducers – whose role is to build up the speaker and give the audience an indication of their speech purpose and objectives, set the scene for them well. Each of them mentioned the time allowed for each speech (typically 5-7 mins, but not always, so the speech length is essential information for the Timer and interesting info for the audience) and each mentioned the Pathway project; text book stuff. Also, one of our more experienced members Alana Bogart even managed to slip in an Invergiggles sub for Invercargill, as a nod to the meeting's humorous theme; a subtle touch which did not go unnoticed by the General Evaluator (which happened to be me!).
Table Topics gave us more giggles and our Table Topics Master, Craig Mason, followed the recommended Toastmaster protocol, giving the question first before selecting the speaker. This method gets everyone in the audience and thinking about off-what they might say as it could be any of us who will be called to the front, so it's more and inclusive and engaging than selecting a person first and then giving them the topic – a simple, yet effective approach.
Evaluation is a key feature in the Toastmasters learning experience and our three speech evaluators gave some helpful feedback to the day's speakers. Phrases like "I would have loved to have seen", "What the speaker asked me to look out for" and "Something I'd like to suggest" were consistent throughout this portion of the meeting and what I particularly appreciated was Evaluator 3, Dee Bigelow ending her recommendations by giving the speaker a challenge "To challenge yourself… after all, it's what we all head along, bright and early on a Friday morning… to learn, grow, support each other to improve and the added, but ever-present bonus…laugh!
And on that note, I shall leave you with a couple of our favourite jokes.
Q. What do you call a couple of funghi's who get together?
A. Fung-us
Q. What's small, ground, green and goes up and down and up and down?
A. A pea in an elevator