We were in hybrid mode again this week with members in the room and on Zoom. Alana Vickery our toastmaster set the theme of the day as Thank God It's Friday.
We received some education about the weather along with the pro and cons of swimming in the Lyttleton Harbour. Our two introducers Stephen McConnachie and David Clarkson were both on form with animated and comprehensive introductions.
Dee took the opportunity to continue her preparation for the up-coming international speech competition. Some engaging stories about stories, along with the question, can you change your story?
Sabine led an interactive session on the topic of evaluations, drawing on the combined experience of the Boaters team. A recording was made, so if you weren't there you should have a chance to tap into the ideas also.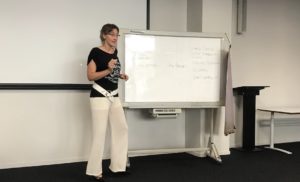 Our three evaluators, Max, David Cooper and Louise all did an awesome job. All with the pressure of everyone having just had a tutorial on evaluations.
Commendations to all those who were onboard and making it another successful Friday morning at Boaters.
Member blog by Roydon Gibbs