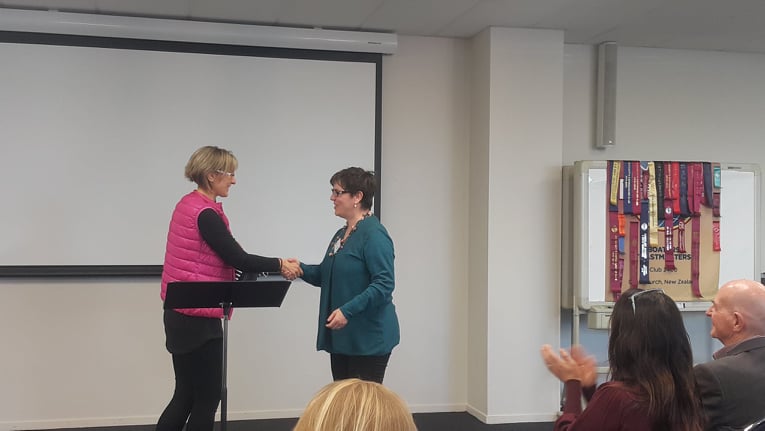 Member blog: by David Pottinger. The theme for this week's meeting, which included an educational by Laura Bruce, winner of the 2020 D72 Toastmasters Humorous Speech Contest, was Winning.
Jacqui Anderson opened the meeting as Sgt at Arms and welcomed us in, introducing our Toastmaster for the morning, David Clarkson. David explained the difference between good and bad winning. And today was definitely about good winning!
Steve Kennelly, our grammarian encouraged us to add a rhyme into our speech – as he said, rhyme's nice on the ears and helps us remember. He even wrote his own captivating rhyming poem just before stepping up to the lecturn, which left our Toastmaster speechless when taking back the stage.
Natalie introduced our first speaker Cam Parsonson who opened our eyes to the black pacu and the trials and tribulations of introducing a fish species into New Zealand!
Louise Landess then introduced our guest speaker Laura Bruce, a member of the Christchurch Women's Club and current holder of the D72 Toastmasters Humorous Speech winner's title. Laura started off by explaining "why compete?", sharing how Bob Ferguson encourages her, with his philosophy that competition leads to excellence. On the theme of winning, Laura's belief is to have a desire to win out of respect to the others in the competition.
Breaking her speech into two parts, she gave us the following tips on tech and technique
Create an experience that is as close to real life as possible.
Aim for a crystal image and clear audio. For minimum interference it's best to use a computer (rather than a phone or tablet) and a wired internet connection if possible to get the best signal.
Make sure your laptop is fully charged and use an external microphone/camera if possible – Logitech for $50-60.
Camera at eye level! As close to real life as possible.
Things often go wrong, but if you can arrive early you can minimise those things that go wrong.
Stand out from your background and set up a pleasant visual experience. Laura moved the dining table so she had white double doors behind, and wore a navy blue top with a pop of colour to create a contrasting presence
Write an engaging speech, check the judging criteria and include all the elements.
If you can get a laugh early in then that sends a good message to the audience and shows that you are there to have fun.
With laughs, record the speech when presented in front of an audience and note when they laugh. And then when presenting on zoom, make sure to pause (count 1-2-3) and allow for that laugh. Really important to allow audience to laugh, to enjoy the speech, don't want to step on the laugh.
And finally, practice, practice, practice.
It was fantastic of Laura to come along and share insights to help us learn, plus motivate us to compete. As she said, it's the best way to improve your presentations and motivation to be the best for your audience.
Esmail was our Table Topics Master and made sure to ask up our – experienced – guests who'd taken the opportunity to come for a visit and listen to Laura. Both are members of Sunrise Toastmasters, another morning club and fellow D1 Toasties.
Sean Joyce took us back 100 years to the village he grew up in and then revealed his main reason for attending today was espionage!!
Gemma Woods then told us about her home and what home means to her, and how she needs a bit of a nudge from her husband to help her leave home bright and early for Toastmasters!
Stephen McConnachie entertained us with a great example of an impromptu speech and all with a fluffy brain that was in need of coffee!Gerald evaluated Cam's speech, giving lots of pointers that we could all learn from when it comes to slide presentations.
Roydon evaluated Laura's speech, thanking her for coming and reminding us of what a great presentation it was. He did manage to provide a couple of useful recommendations too, before acknowledging how much we learned from her presentation.
Alannah then evaluated the table topics speeches and Louise Green then evaluated everyone else who hadn't already been evaluated! With energy and enthusiasm they gave us all some great pointers in how to present a more polished speech next time.